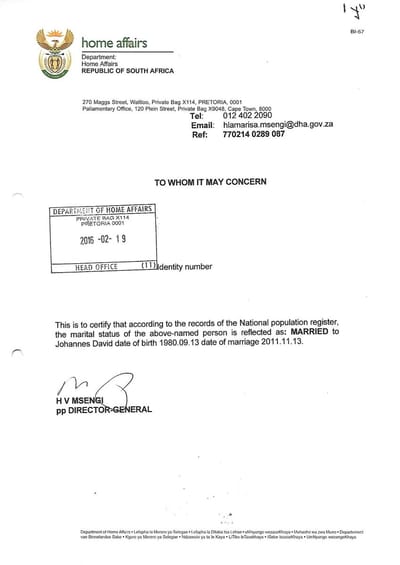 Getting Married outside South-Africa? You will probably need a
Letter of No Impediment
. When planning to get married overseas it is common that the authorities in that country will request a Certificate of No Impediment. This document is a way of proving that there is no Impediment/Obstruction in allowing you to be married and shows that there has been no objection to your proposed marriage.
How can you apply for a Letter of No Impediment in South Africa?
We assist South African nationals to apply for and obtain their legal documents for use abroad.
When applying for a letter of no impediment, applications can be lodged with the Department of Home Affairs or a SA High Commission office (exceptionally long waiting period).
When applying for a letter of no impediment, there will be a form that you need to complete and an application fee that you will need to pay.
How long does it take to obtain a Letter of No Impediment?
Depending on how easily accessible your records are within the Department of Home Affairs' archives, processing times for these certificates may vary. It can take up to six months for you to receive your Letter of No Impediment through a SA High Commission or consulate. We are able to assist you in either 4-6 weeks or 2-3 weeks (see pricing and timing here).
Why Letters of No Impediment are important
Letters of no impediment are official government documents that provide information indicating that a thorough search has been conducted on your personal credentials and that no record of marriage could be found on your name. Otherwise, people would be able to marry people in different countries without each country knowing about the other marriage!
Officially issued by the South African Department of Home Affairs, certificates of no impediment serve to confirm the marital status of a South African national. Once issued, these certificates are valid for a period of six months and may be used for legal processes both inside and outside of South Africa, including visa and residency applications, as well as marital procedures.
We can assist you to obtain a Letter of No Impediment
If you need to obtain a Letter of No Impediment, but do not wish to stand in queues at Home Affairs, or are unable to, we can take the stress out of the situation. Apostil.co.za is an agency in South Africa, specialising in legal document assistance.
You will need to send the following to us:
• Mandatory: Your ID document or passport in a clear PDF scan
• Mandatory: A completed form – filled in with black ink and PDF scanned to us. Download the DHA Letter of No Impediment DHA-1155 Form for us to assist you.
We can help you apply for and obtain your Letter of No Impediment if you wish to get married in a foreign country. We can help take the hassle out of the process for you. We have a range of pricing options available.
Feel free to contact us today for all your legal document requirements.
Zune Naude
0870010733
law@louwrenskoen.co.za
ORDER AND GET A QUOTE ONLINE
Ordering and quoting online is simple and safe. Complete the secure online form to get a no-obligation quotation with a time estimate for completion. You can use the secure incorporated facility to upload any documents you would like us to
check
.