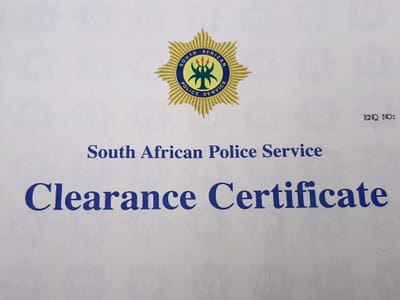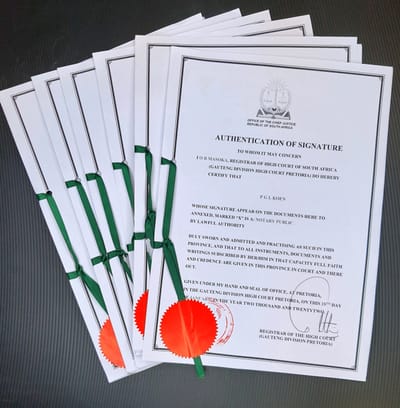 We can assist you in obtaining an urgent Police Clearance Certificate from the SAPS Criminal Record Centre within
5 -7 working days
and, if necessary, legalise the Police Clearance Certificate for international use through
Apostille
,
Authentication
or
Embassy Legalisation
(the process used is dependent on the destination country where the Police Clearance Certificate will be used)
To ensure you get a good service, we ask that you read this document thoroughly and follow the process stated below.
How to get started with obtaining your Police Clearance Certificate
Complete our
online quotation and order form
. We will give a no-obligation quote with currently estimated time frames and detailed information on how to proceed. As part of the process, you will be required to:
a) Obtain a complete set of
original fingerprints
from your local police station on the
SAPS official fingerprint form
. If you are overseas, you can have the form completed at your nearest police station. If you are outside the country, you may apply at
any police station or the South African Embassy.
b) Make a
copy of your ID or Passport
c) Make a copy of your marriage certificate, if a married female, to have your maiden name included on the SAPS Clearance Certificate in compliance with international legislation.
Courier or hand deliver the complete set of documents to
:
Louwrens Koen AttorneysOffice4, Second Floor, Northern Pavilion, Gate 12
Loftus Versveld
416 Kirkness Street, Pretoria, 0007
Tel: 0870010733
For Attention: Zune Naude

OR
POSTNET OPTION -
You can also send the document via Postnet to:
POSTNET Loftus Park
Attention: Zune Naude, Louwrens Koen Attorneys.
Once we receive it, we will immediately apply for you and pick up the completed SAPS Police Clearance Certificate.
SAPS Clearance Certificates usually are finalised within 2 -3 months of submitting your application to the
Criminal Record Centre
if not expedited.
For further information or assistance, please contact:
Zune Naude,
Louwrens Koen Attorneys

Office 4, Second Floor, Northern Pavilion, Loftus Versveld, 416 Kirkness Street, Pretoria.
E-Mail: info@louwrenskoen.co.za
Tel 0736869078