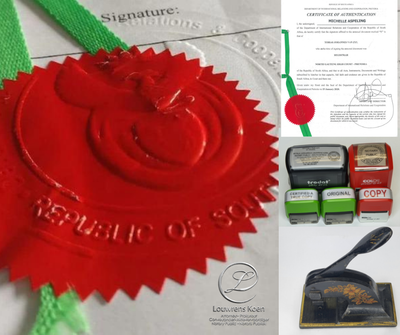 Apostille Service South Africa
Providing a fast apostille certificate and
Notary Public
services for all SA documents with prices from just R750 per document. We aim to process most documents in just 1 to 2 days for
High Court Apostilles
and 3 - 4 weeks for
DIRCO Apostilles
, making our service exceptional value for a quick legalisation service.
List of countries that require the use of apostilles - click here
The apostille can be attached to
most
South-African documents that need to be used in another country for official matters. We will ensure all documents are suitable for processing and provide walk-in
Notary Public
services if required. We can also arrange for your documents to be further legalised or attested at any
embassy
in just a few days.
ORDER AND GET A QUOTE ONLINE
Ordering and quoting online is simple and safe. Complete the secure online form to get a no-obligation quotation with a time estimate for completion. You can use the secure incorporated facility to upload any documents you would like us to
check
.
We offer apostille, document authentication &
notary public
services quickly and efficiently.
See our pricing.
Comprehensive Document Legalisation Services:
Apostille Certificates DIRCO
Authentication Certificates DIRCO
Apostille Certificates High Court
Authentication Certificates High Court
Notary Public Services
Popular documents are frequently legalised with an Authentication Certificate for use outside the borders of South Africa. Virtually any South-African public document can be legalised by either an Apostille Certificate or an Authentication process.
Here is a list of Popular South African Public Documents that we legalise on a daily basis:
Permission letter for minor children to travel or visit overseas.
Technicon Diploma;
Doctor, Dentist applications for overseas appointments;
HPCSA applications South-Africa;
Close Corporation Documentation;
Land Transfer and Mortgage documents for transactions outside SA borders;
Applications for employment overseas with supplementary documentation; Contracts.
Applications for employment overseas.
Miscellaneous notarised documents for use overseas.
This list is not exhaustive. If you have a document not listed above that you require apostilled, contact us to make inquiries or get a quotation. Should you have any questions regarding our services, need a quote or want to proceed with legalising your documents, please get in touch with us or visit our offices.
Click this link for a no-obligation quotation.